The SEVA 2018 Convention is one that you don't want to miss!
Join us for our exceptional educational sessions. Our featured presenters include:
View complete shcedule
Recreation
Ready for some recreational fun? Register for the golf tournament, the NEW SEVA dolphin cruise, participate in the beach volleyball tournament. Sign-up sheet for beach volleyball will be located in the SEVA registration area. For more information about the family friendly dolphin cruise activity, click here.
Congratulations to the 2018 Volleyball Champions, Alabama Vending Association!
Silent Auction
The Convention will once again feature our annual silent auction, where attendees can engage in some friendly competition to win an array of donated items. A percentage of the proceeds will go to the Alan Plaisted Scholarship Fund, which provides NAMA educational scholarships for SEVA industry professionals. The remaining funds will be used to further grow the SEVA Convention.

Some Suggested Donations:
Gift certificates to restaurants or any retailer
Tickets to a sporting event, play or concert
Sports equipment or memorabilia
Vending machines and other related items
Cases of product

If you would like to donate an item to the auction, please contact Lee Williams, Silent Auction Chair, at lwilliams@refreshments.net.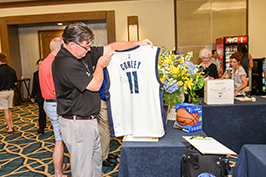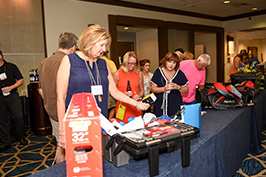 The Alan Plaisted Scholarship Fund
WE ARE CELEBRATING 13 YEARS OF SEVA WITH TWO CHANCES TO RECEIVE THE ALAN PLAISTED SCHOLARSHIP

Every registered operator and supplier will be placed into a drawing for a CHANCE TO WIN this scholarship. Attendees will also have the opportunity to bid on the scholarship during the annual SEVA Silent Auction on Wednesday, August 8th at 6:00 pm.
WHAT IS THE ALAN PLAISTED SCHOLARSHIP?
Established by the Plaisted Family to advance educational opportunities for all SEVA state members, the Alan Plaisted Scholarship was developed in honor and memory of Alan Plaisted. The Alan Plaisted Scholarship includes one all-expense paid scholarship for the 2018 NAMA/MSU Executive Development Program. The 2018 recipient will receive full tuition to this program valued at $3,475.00, plus airfare/transportation costs and lodging. The NAMA/MSU Executive Develop-ment Program, scheduled for October 21-25, 2018, is designed for senior level executives and business owners as well as high potential and mid-level managers who have significant general management and functional responsibility in the vending, coffee service, foodservice and related industries. This unique program provides a comprehensive look at current successful business practices in these industries, including the environment in which a vending, coffee service, and foodser-vice company operates, and the key functional areas of management. The NAMA/MSU Executive Development Program is taught by a group of MSU's most distinguished faculty, along with speakers with excellent knowledge of and back-grounds in their fields.
More information about the program